It's rainy season once again and the number one Filipino dish topping the list right now for sure is our local comfort food champorado. Although this is usually eaten for breakfast or merienda (afternoon snack), we've had it for dinner two nights in a row. It's basically composed of 3 main ingredients, powdered cocoa, sticky rice or glutinous rice, and water. Some already add sugar while making champorado to make it sweet, but I like to add it along with my evaporated milk just before eating.
And of course no champorado is ever complete without a matching fried tuyo (salted dried fish)- super salty, crunchy, flaky and so indispensable. The ingredients are quite cheap but this chocolate porridge is very filling. There are instant champorado already available in the supermarkets. I have tried the one made my Antonio Pueo, but I thought there wasn't enough rice in their mix which made the final product too soupy even if you follow their directions to the letter. Better to make it from scratch, cheaper and there's really nothing much to prepare. You can't really go wrong with this dish- just add more cocoa or water if you want a more chocolatey taste and less sticky.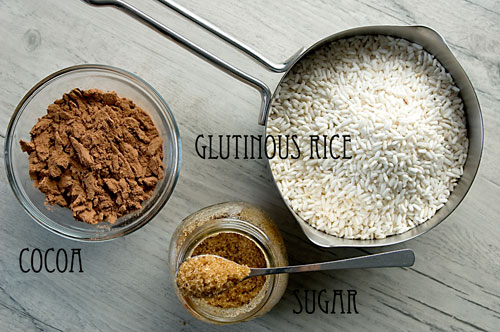 Serves 4-5
Ingredients:
1/4 cup to 1/2 cup Hershey's Powdered Cocoa
1 1/4 cup glutinous rice
5 cups water
Procedure:
Use a deep saucepan and just add all the ingredients. Bring the water to a boil then lower the heat to a simmer and keep on stirring. Cook until rice is soft and chewy. Serve with brown sugar, evaporated milk, and of course fried tuyo.