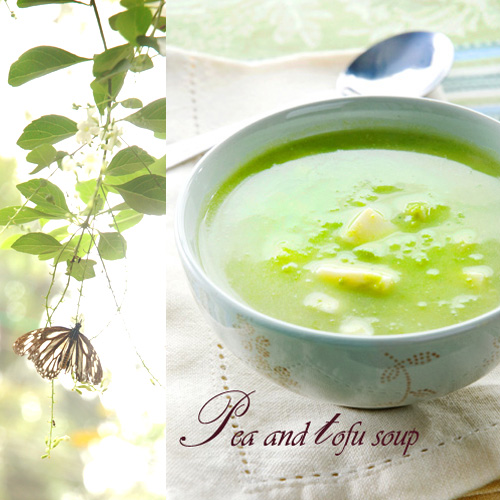 I'm a big fan of creamy soups. I grew up eating nothing but instant Cream of Mushroom soups and mixing it with rice. I'm not sure how much MSG is in my kidneys after all those years of canned soups, but now that I know better- I make my soups from scratch. There's nothing more comforting than a hot bowl of soup to warm me up during the rainy seasons. Just stock up on frozen peas and throw in whatever is leftover in the ref as topping. I was out of croutons when I made this recipe but go ahead and add some to balance out the creaminess and get some crunch.
Ingredients:
2 teaspoons butter
1 medium onion, chopped
2 stalks of leeks, chopped
4 1/2 cups frozen peas
1 medium potato, chopped
4 cups chicken broth
1/2 teaspoon dried tarragon
1/2 cup oyster mushrooms, chopped
1/2 cup tofu, chopped to small cubes
1/4 cup milk or cream
Salt, to taste
Pepper, to taste
Procedure: Saute onion in butter. Add leeks, frozen peas, and potatoes and sweat for about 2 minutes. Add chicken broth, bring to a boil then simmer for about 15 minutes or until potatoes are well cooked. Turn off heat and cool the soup a bit before pouring into a blender. Blend until smooth. Pour back into pot and add tarragon. Stir in mushrooms and tofu and let simmer for 5 more minutes. Add in milk or cream. Season with salt and pepper.